Dear Bride,
You are the main altar at the most sacred ceremony in your life.
You are for honoring, for cherishing, for admiring, for adorning.
You are the embodiment of endless love, beauty, and harmony,
the expression of sensuality, elegance, and playfulness,
radiating your own uniqueness, inner richness, and your divine essence.
You are the Goddess herself.
---
Style
NYMF Bridal has a variety of one-of-a-kind bridal dresses at NYMF Fashion Studio in Tallinn. All the wedding dresses carry different archetypes and energies so you can choose here a simpler wedding dress for the secret sunrise ceremony in nature just for the two of you and also really embellished and luxurious wedding dresses to enter into a marriage in the Royal Palais.
NYMF's handwriting is rather playful and abundant - combining different structures, laces, fringes, details, embroideries, and pearls and being inspired by the 1920-s when filigree was still in style.
We value high quality, both in materials and sewing, so all our dresses are handmade with love in Estonia. Our collections are really feminine, sensual and have a sense of magic in them. The dresses are mainly in size EU38 and adjustable in lengths and fittings if possible.
---
Read
WEDDING DRESS – A GOWN THAT EXPRESSES THE ESSENCE OF A WOMAN
---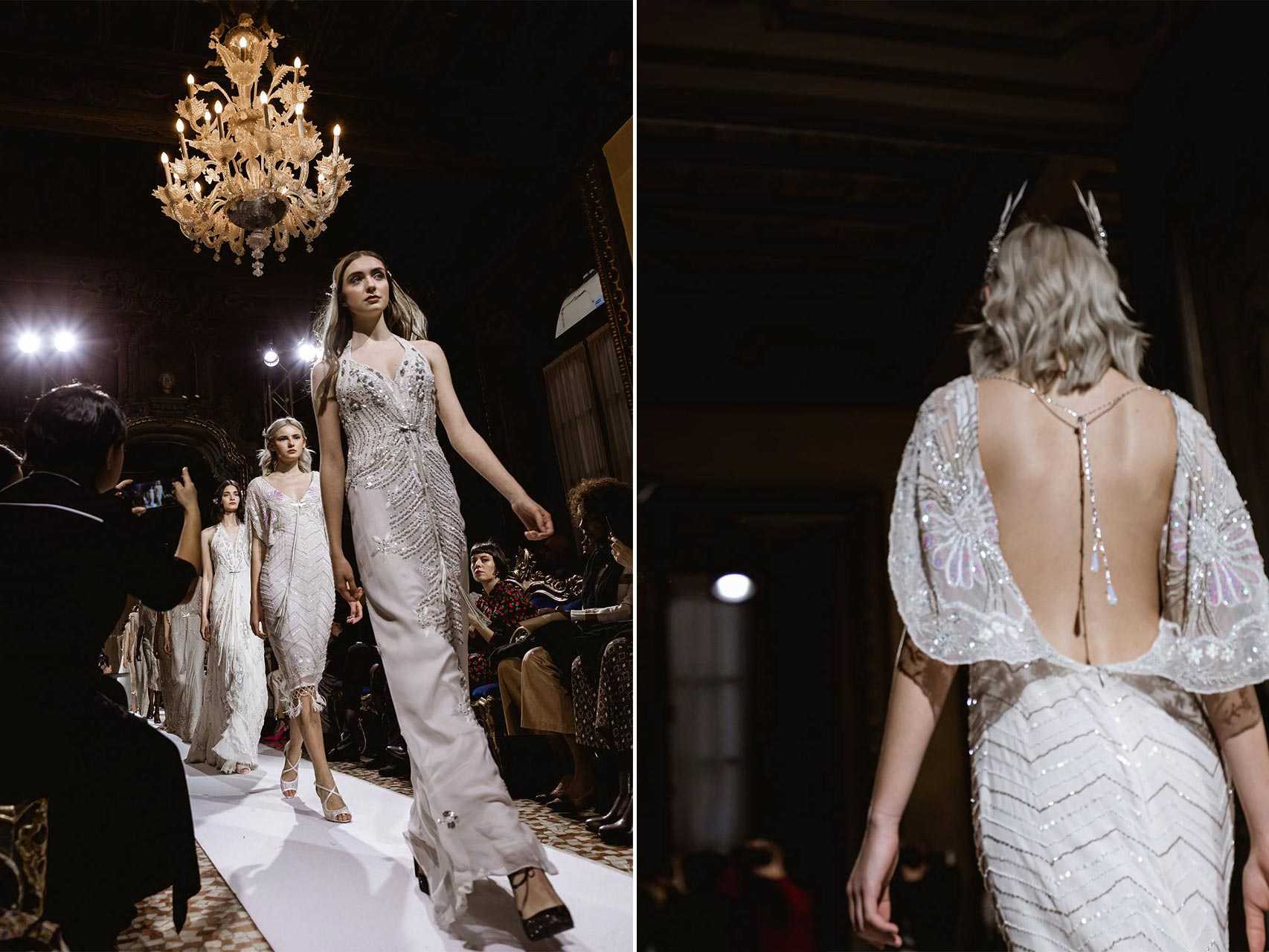 Prices
The prices depend on the dress. You can find the prices for ready-made dresses on our webpage - www.nymf.ee/shop. Bespoke dresses have a bit higher price level and everything depends on the bride's wishes and values.
---
Orders
We really value individuality, personality and would love to share the most enjoyable process in a magical atmosphere so our studio is open by appointment only. If possible, our designer Triin Kärblane meets you in person and could suggest the best solutions just for you. We also have a variety of handmade hair accessories, most of them are made especially for NYMF bridal dresses.
You are very welcome to bring your mother or girlfriends with you. In addition to sharing the dress-choosing process with them, we also have more colorful NYMF Fashion collections at our studio. Taking photos to memorize the process or helping to choose the right dress is very welcome.
If you can't visit our studio in person and choose to shop online, we make everything to make the shopping process as individual as possible. We can discuss the dress via Whatsapp or email, check all the measurements before the purchase and make the alterations if needed and possible.
Delivery time depends on the alterations and the courier. We prefer to ship valuable bridal dresses via Fedex, so the shipping worldwide takes only some days.
All the bridal dresses are packed in a special NYMF signature garment bag.
---