"La Notte a Venezia: An Editorial Elopement Shoot exploring the laid-back decadence and unique luxury of a Venice Wedding"
When someone mentions Venice, everyone has a set of expectations and images that come to their minds: from the ancient history of the Carnevale di Venezia (almost one thousand years old!) with its masks and baroque outfits, to the most avant-garde art shows of the Biennale, from the legends and historical facts surrounding the Serenissima and its Doges, to the beautiful palaces, and of course its waters, the canals, the gondolas, the Mostra del Cinema di Venezia with the most important people of the movie industry gathering to the lagoon… We all can't help but be fascinated by this fragile yet resilient and decadent masterpiece of a city.
Venice - like other points of interest around Italy, such as Lake Como, Florence and Tuscany, or the Amalfi Coast - is also home to many destination weddings yearly, from intimate elopements to lavish and huge events.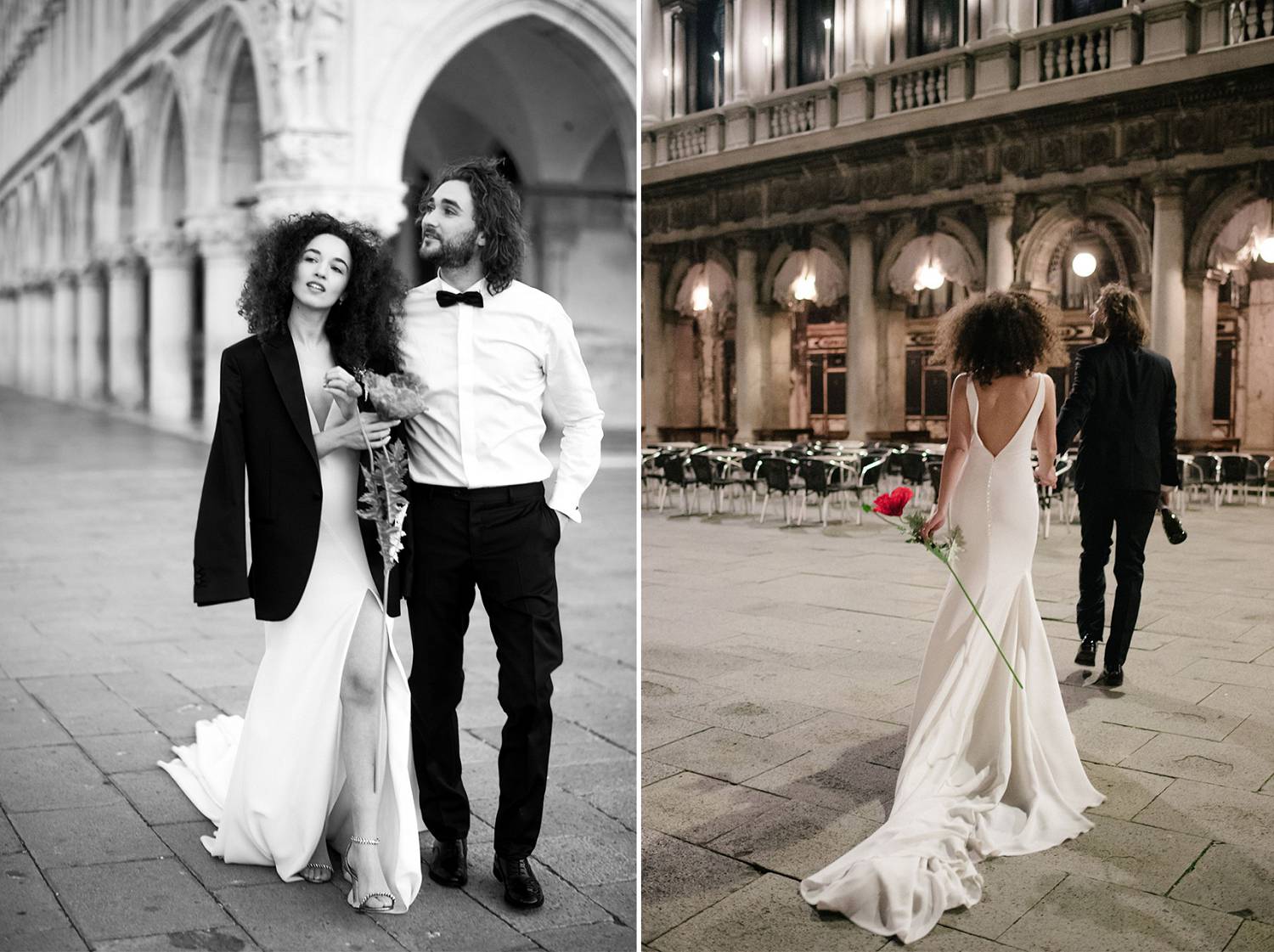 There is one side of Venice, though, that is often unrepresented in the visual aesthetic of many tourists or couples willing to get married or visit the iconic city: Venice at night, or, as the title of this editorial shooting quotes in Italian, "La Notte a Venezia".
We decided to talk about it with Selene Pozzer and Alba Renna, photographer and videographer, founders of ManiSol Wedding and Elope to Italy who, together with Sara Sabà (The Wedding Studio, the event planner), Costanza Tarantini and Michele Lemma (Il Nido Verde, the floral designers) created this elopement editorial to show an unexpected, more honest and unique version of Venice.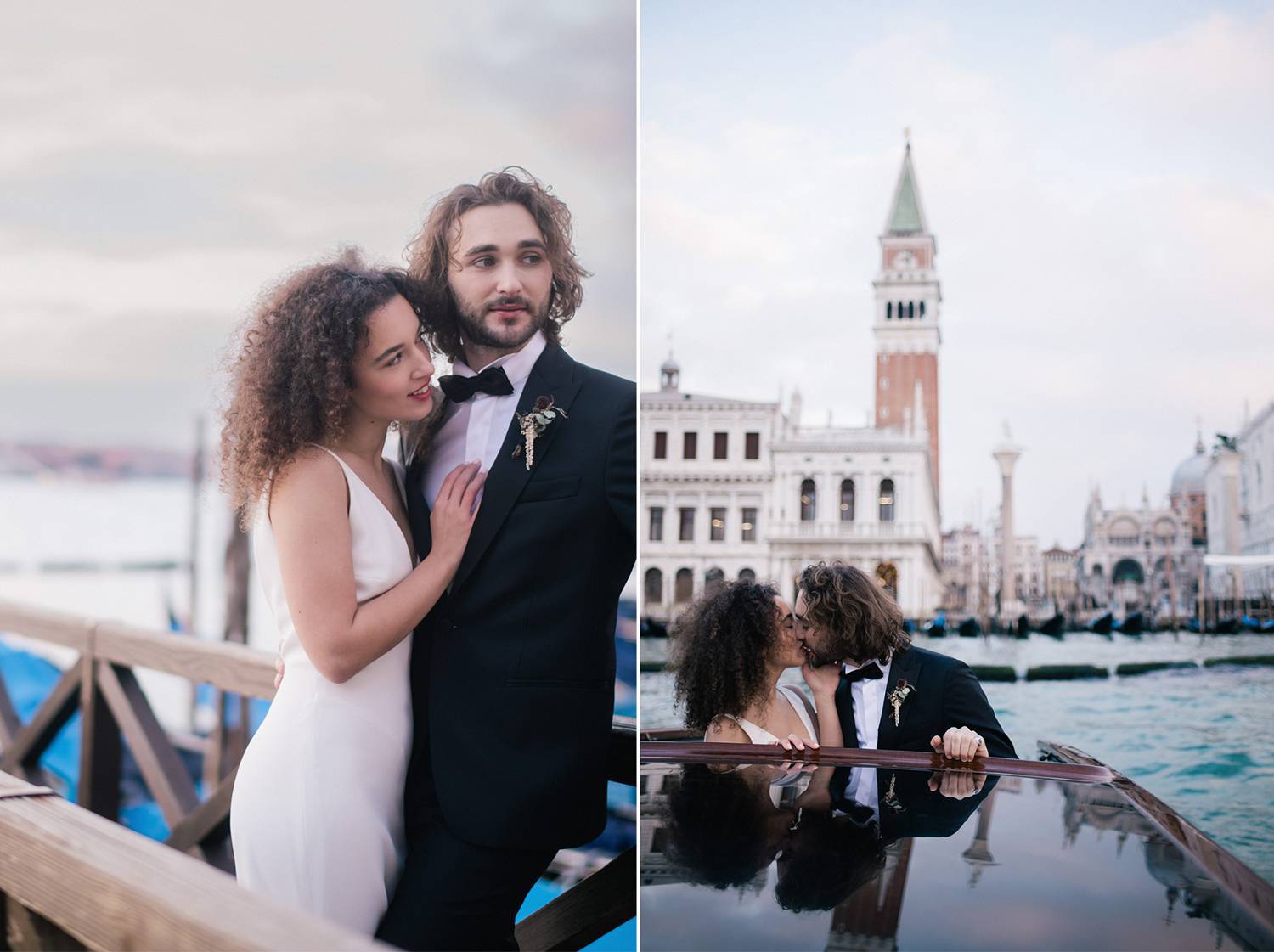 Bride Lifestyle: This elopement inspiration has a completely different timeline than a typical elopement or wedding day, as it starts with the sunset and ends with the sunrise. Where does this idea come from, and how could couples use this formula to have a different elopement experience?
ManiSol: Living in Veneto, we have visited Venice a hundred times at different moments of the day, different seasons, etc. One thing that always stuck with us is how different the city looks when the crowds of the day leave it: the atmosphere that the city has, especially in its most historical areas like San Marco, when the night comes, is completely different and timeless. However, despite its enormous charm, we have rarely seen it represented by pop culture; the only instance we have seen of that type of atmosphere is the 2016 commercial of the perfume Gucci Guilty starring Jared Leto, which was among our inspirations for the editorial. We have always wanted to show our couples what an incredible experience could be to create their own elopement timeline, even changing the day-to-night schedule entirely. That's one of the best things about elopements: they can be anything the couple wants, with zero limits. Besides this mysterious, adventurous, and sensual atmosphere, another perk of the night and sunrise shoot is the possibility of shooting, and for our couple of sharing their vows, in a completely empty and dim-lit San Marco square. Its beauty can hardly be described with words.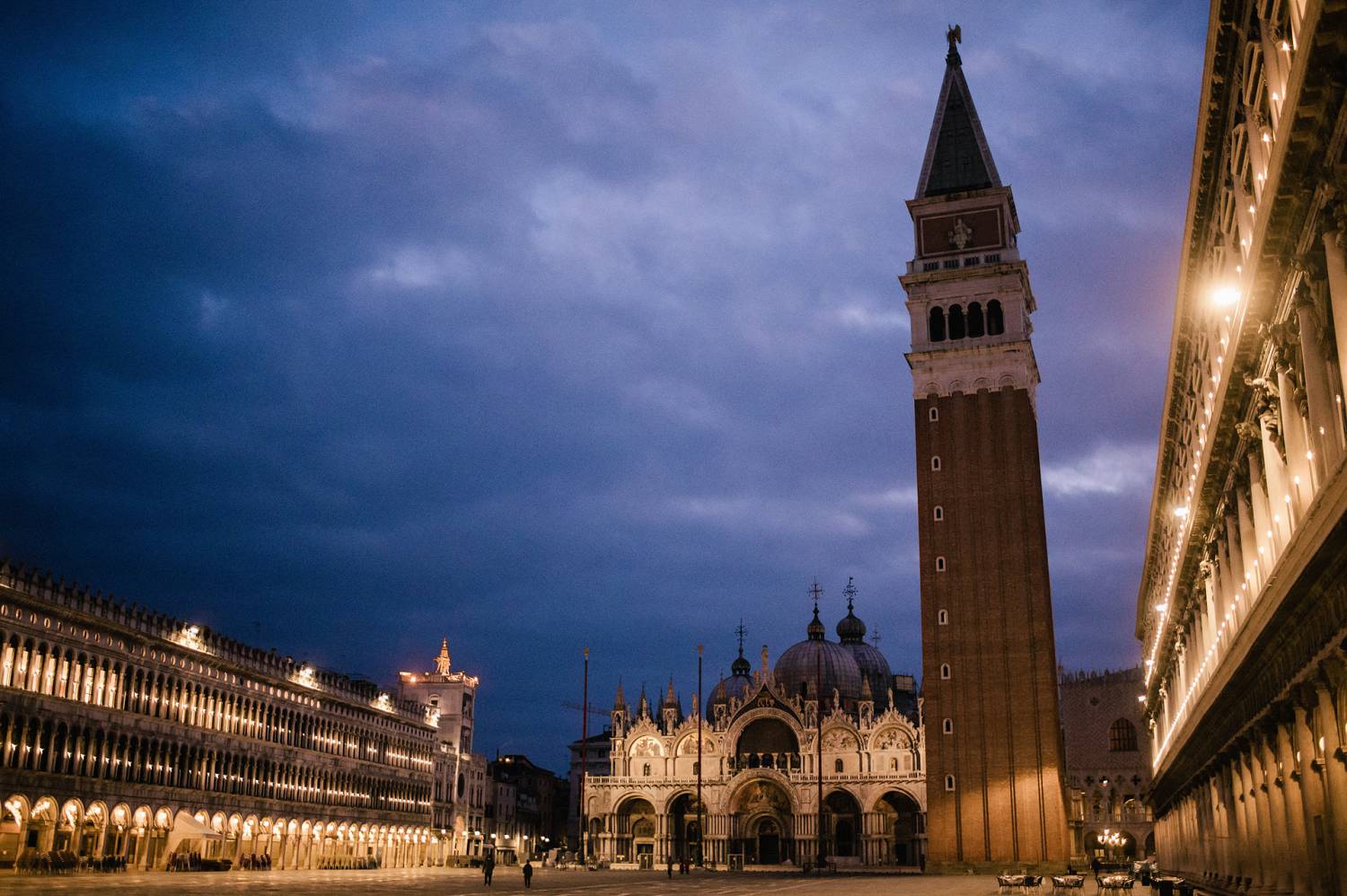 Bride Lifestyle: The freedom that comes with planning an elopement instead of a more "traditional" destination wedding is something that couples love, and that ends up being a big factor in the decision of having this type of event. Is there any understated activity you recommend doing for elopements in Venice specifically?
ManiSol: Working with local planners and/or local wedding photographers and videographers is one of the main factors that can really change the overall elopement experience. And it makes sense if you think about it: if a couple comes to Venice - or Italy, in general - for their wedding or elopement, they do so because they want to experience the real Italy, the real "dolce vita", not only for a merely aesthetic reason. There are some types of experiences that only locals know about - for example, we have often brought our elopement couples for a traditional "Bacaro Tour" instead of recommending them some fancy restaurants because that is the truest and most "Venetian" way to enjoy a meal.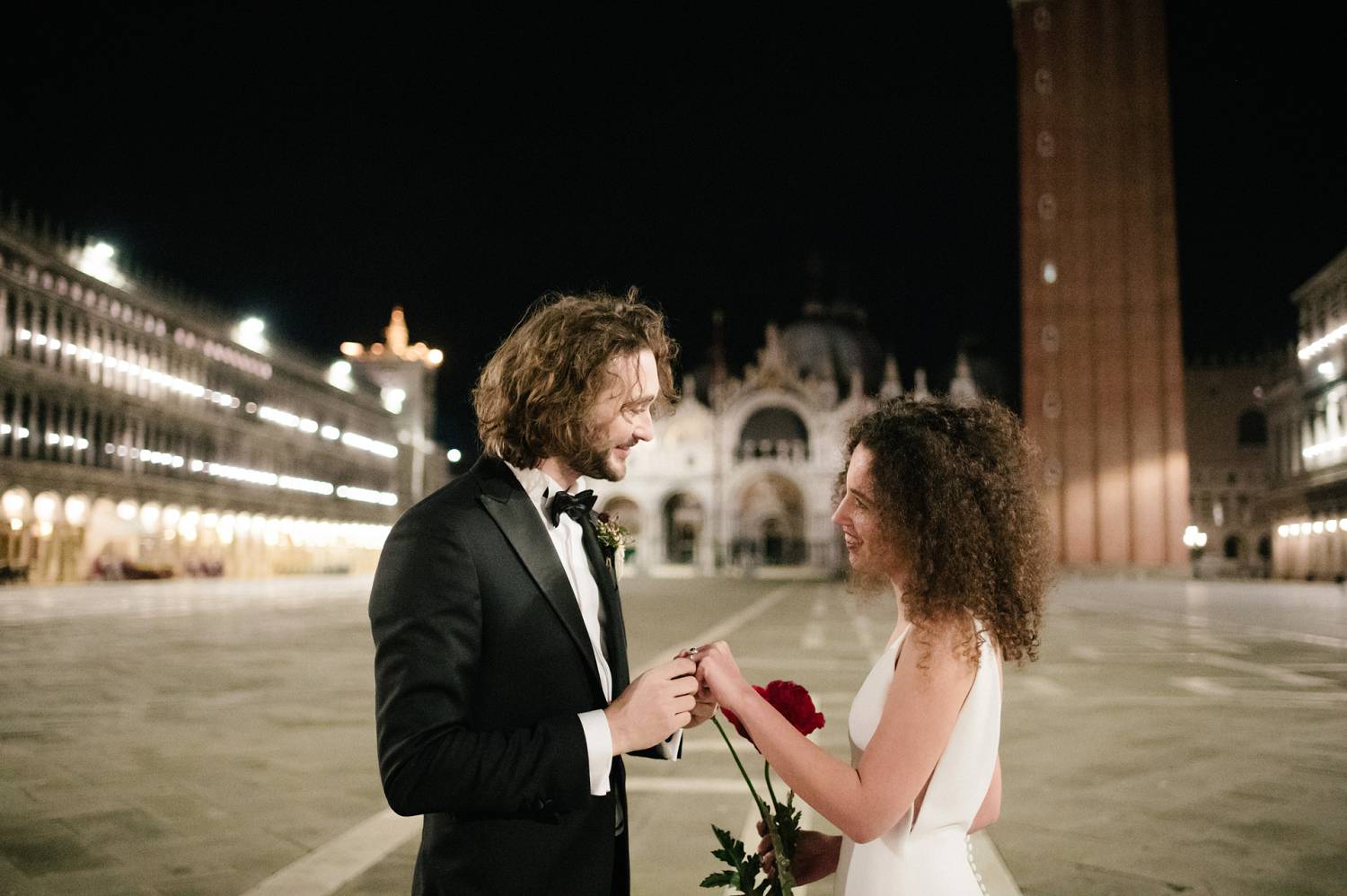 For those who don't know what a Bacaro Tour is: the less-touristic spots of Venice are filled with tiny bars - the Bacaros, indeed - that serve white or red wine in tiny glasses - the Ombras, a glass that's a mid-way between a shot glass and a regular one - to be eaten with Cicchetti, the traditional Venicean tapas, that can be anything from meatballs to tiny sandwiches, fried fish or the unforgettable baccalà mantecato. And not to brag, but we know the best Bacaros around!
Besides the food, other Venice-specific elopement activities we always recommend our couples to include are a water taxi or gondola ride (you haven't really visited Venice if you haven't seen it by its water), to consider the other islands of Venice as well (Burano and Torcello are among our favourites), and in general to not necessarily set for the most obvious choices. Each elopement can be (and shall be) unique, that's what we aimed to prove with La Notte a Venezia.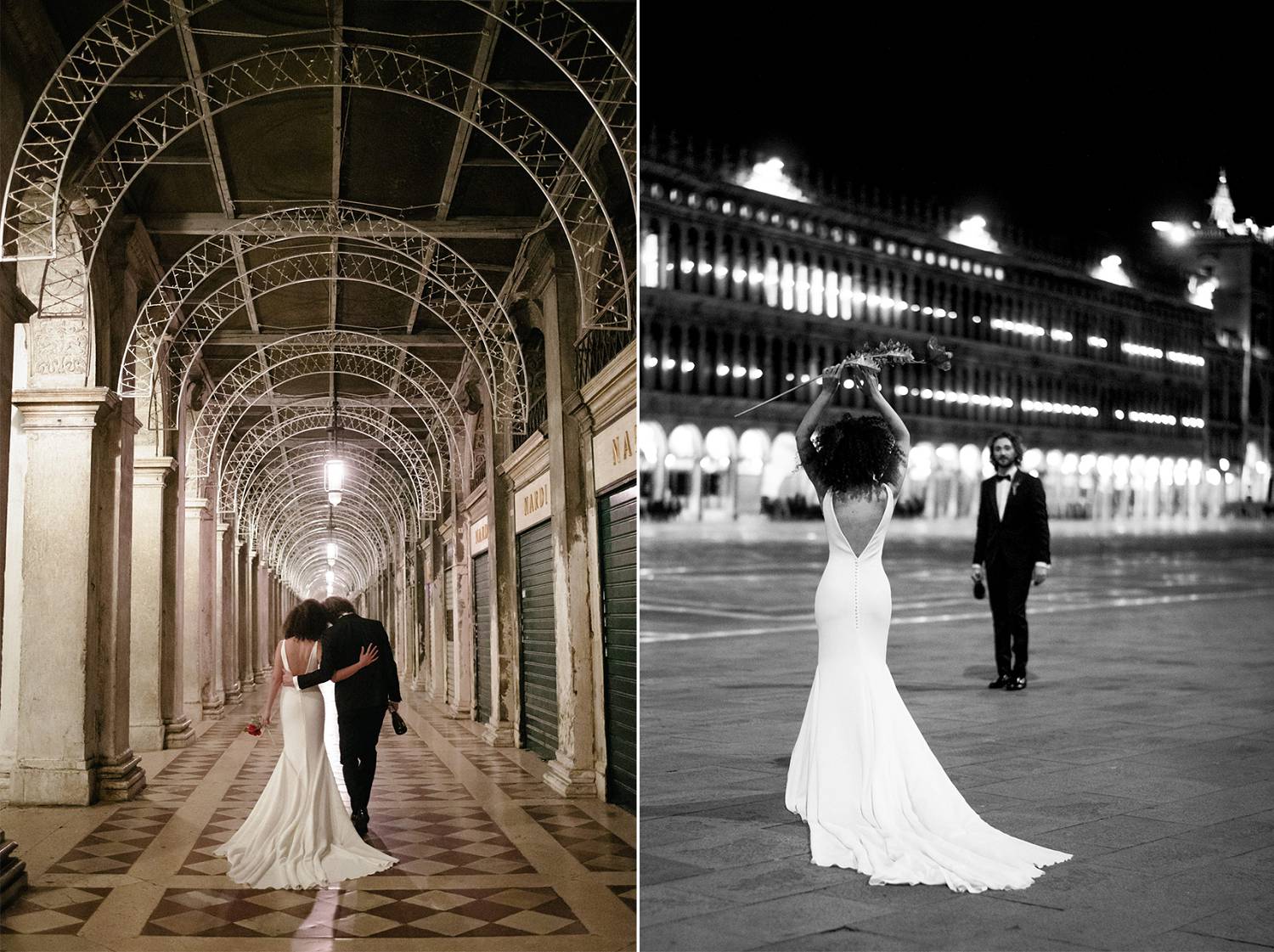 BL: What type of events suit Venice the best, in your opinion?
MS: We have personally witnessed, photographed, and filmed weddings of any size in Venice. If a couple is looking for a laid-back, decadent sense of luxury - like the one we wanted to represent in La Notte a Venezia - then Venice is the place to be. Since the city is entirely built on water, though, the logistics are completely different than in any other place - therefore, the choice of a wedding planner who has great taste and knows the city well is crucial. Venice has a lot of incredible wedding venues: historical palaces of the Serenissima, luxurious hotels, churches and synagogues, and even secret gardens. While we wouldn't necessarily advise against very large weddings in the city (think 200+ people events), we think that Venice has many more options to offer for those couples who plan intimate to medium-sized events. In terms of seasonality, Venice is wonderful in every season of the year, but the best months - in terms of the number of tourists, climate, and daylight hours - are probably April, May, September, and October.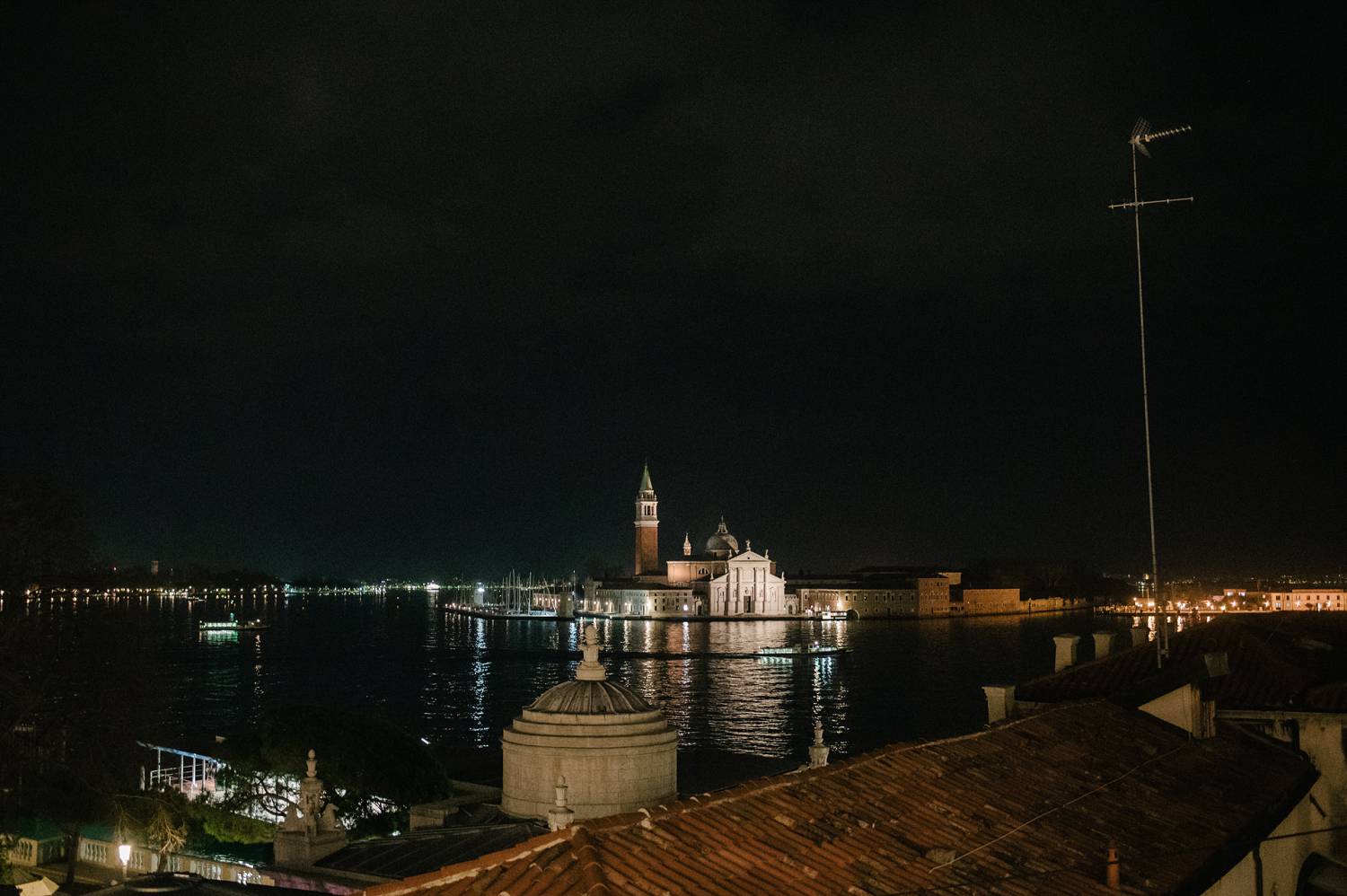 BL: What stylistic choices did you make to portray this, in your words, "laid-back, decadent sense of luxury" in La Notte a Venezia? How could our couples replicate that vibe for their own wedding or elopement?
MS: First of all, we'd recommend our couples find vendors who share the same aesthetic as they do. We loved to create the basis for this shooting with Sara Sabà, the wedding planner: we have a shared vision, and every little detail she thought of really added to the overall sense of the shooting. One of the first things we decided on was the bride's dress: Pronovias sponsored us with their gorgeous "Eureka" mermaid-cut dress that perfectly matched the effortless glamour we had in mind. Another crucial factor was the hotel room where most of the action took place, from the milk bath scene to the iconic lingerie and vintage Polaroid "bed of roses" shots in the flower-decorated chaise-longue (a fantastic add from Il Nido Verde, our amazing floral designers). The five-star Luna Baglioni Hotel was a perfect choice: located literally 15 steps away from Piazza San Marco, it's the perfect embodiment of this mysterious opulence we were looking for.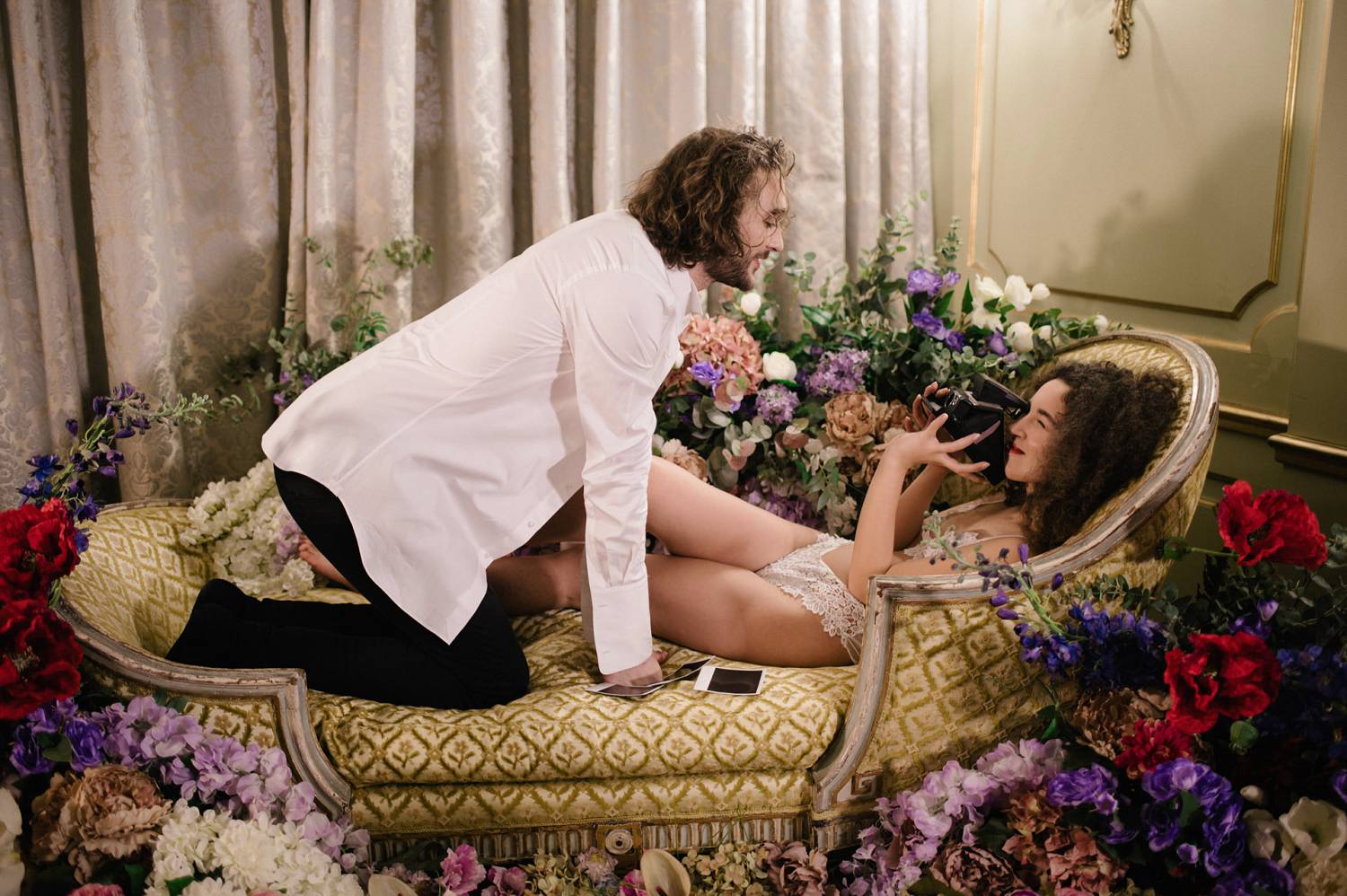 A piece of advice we can give to couples who are dreaming of having a unique, personal, and glamorous wedding or elopement in Venice is to think outside the box and not set for the most obvious choice. Even if that brings you to get married in the middle of the night, in an empty San Marco square!
ManiSol Wedding is an all-female wedding photography and videography collective based in Italy and founded by Alba Renna and Selene Pozzer. In their years of expertise, they have collected weddings all over Italy and around the world, now being known as one of the most interesting under-35 photography and videography teams around Italy
---
---
Vendors who took part in this shooting: